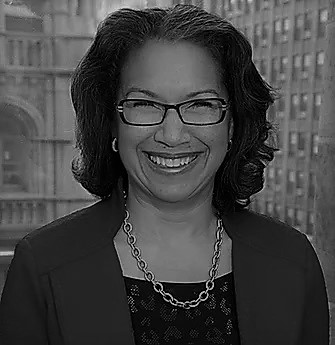 Elsie McCabe Thompson
Elsie McCabe Thompson is President of the New York City Mission Society (the Mission Society), one of the nation's oldest antipoverty organizations that combats multi-generational poverty through the power of education. The Mission Society has a dynamic portfolio of education and youth development programs in 12 locations which annually help thousands of young people and families in New York City. During her six year tenure, Ms. McCabe Thompson has transformed the Mission Society – she has relocated the organization's headquarters from lower Park Avenue to Harlem, reorganized the staff, more than tripled Board giving, tripled the endowment and put a curricula development team in place to ensure greater educational program quality. She has also created a unique progressive school model that has been authorized by SUNY as an elementary charter school in Central Harlem with a 12 student class size targeted at the City's most disadvantaged residents.
Prior to joining the Mission Society, she was the President of the Museum for African Art for 15 years (1997 to 2012). At the Museum, Ms. McCabe Thompson oversaw the expansion and re invigoration of its Board of Trustees, the doubling of earned income and, most significantly, she initiated and led the most important development in the institution's history: the amassing of 5 parcels of land as well as the rezoning, planning, design, value-engineering, financing and construction of a new building located at on the top of Museum Mile (5th Fifth Avenue) at East 110th Street. During her tenure at the Museum, she expanded its programmatic reach by touring the Museum's exhibitions to over 140 museums around the world, with more than 40 scholarly publications. She also developed a multidisciplinary school program that introduced children in more than 350 schools in 12 countries to the beauty and majesty of African art and culture.
EDUCATION
Ms. McCabe Thompson has a B.A from Barnard College, magna cum laude, and a J.D. from Harvard Law School